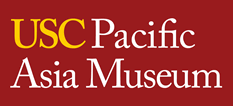 USC Pacific Asia Museum
Established in 1971, the USC Pacific Asia Museum has served as a vital institution in promoting the arts and culture of Asia and the Pacific Islands. In order to encompass a range of art, the museum showcases pieces from the past in addition to contemporary exhibitions. In 2013, University of Southern California partnered with the museum to form USC Pacific Asia Museum. The affiliation broadened the community that benefits from the museum's role as a vital resource for education and cultural heritage, and expanded the audience interested in a dialogue about art, history and culture.
Support from the museum's constituent communities has enabled the collection to grow to more than 15,000 objects, spanning more than four thousand years and the region extending from Persia to the Pacific Islands. The museum fulfills its mission by organizing and presenting exhibitions, performances, lectures, classes, workshops, and festivals, all drawing on the arts and cultures of Asia and the Pacific Islands. These programs provide quality arts programming and education to children and families, ensuring greater access to the arts for area residents and nurturing new audiences.
In its brief history, the museum has organized and presented a number of groundbreaking exhibitions, including the first North American exhibitions of contemporary Chinese art after the Revolution and the first exhibition of Aboriginal art in the United States. Exhibitions originated by the museum have traveled across the country and to Japan. The museum is also committed to scholarship and has produced more than 50 exhibition catalogues.
Click here for more information.